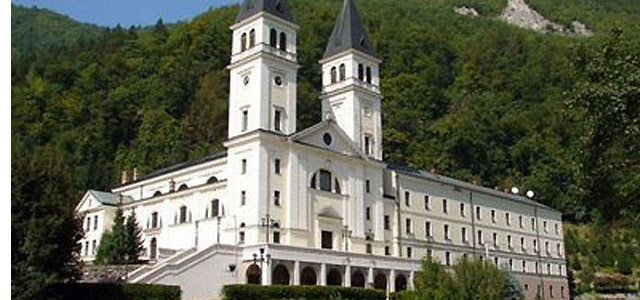 Franciscan in Bosnia and Herzegovina were present on Bosnian soil since 1291 (only 80 years after the foundation of the Franciscan order). The whole Franciscan province in Bosnia obtained its name Bosnia Srebrena(Bosnia Argentums).They were beloved by people for being educated and humble, and preaching in local language. Franciscans preserved Bosnian history for hundreds of years.
DAY 01:       ARRIVE – SARAJEVO
Arrives at  Sarajevo airport. Meet & greet service by English Speaking Guide.
Transfer to hotel. Check-in, rest & relax. Overnight stay.
DAY 02:      SARAJEVO
Breakfast at hotel. Morning depart for a City & Ethnic Tour .
Highlights: You will visit the Church of St.Anthony of Padua built in 1914 at the same place where the old church was. Sarajevo Cathedral, designed by Josip Vancas, built in 1884. Within few hundred meters you will pass by mosque, catholic church, old Jewish temple and Orthodox church. The afternoon is at leisure for you to independently explore the City.
Return to hotel. Overnight stay.
DAY 03:      SARAJEVO – FOJNICA
Breakfast at hotel.  Overland transfer to Fojnica, famous for its thermal waters and stunning Monastery.
Check in hotel.
Highlights: Franciscan Monastery and Church of St.Spirit built in 14th  century with rich museum collection. Lunch at the Monastery. The afternoon is planned for a walk and to enjoy the beautiful nature, or individual visit to wellness center (anti-stress program, massage, water program..)
Overnight stay.
DAY 04:     FOJNICA – KRESEVO – KRALJEVA SUTJESKA – SARAJEVO
After breakfast transfer to Kraljeva Sutjeska via Kresevo.
Highlights: Franciscan Monastery and Church of St. Catharine in Kresevo was built in 14th century, Five times lost in fire and demolished, was rebuilt each time.
Kraljeva Sutjeska- Franciscan Monastery and Church of St. John The Baptist was built in the beginning of 13th century. Destroyed more than once, but always rebuilt. The last queen of Bosnia Queen Katarina reside  here until was forced to exile to Rome.
Transfer to Sarajevo. Overnight stay.
DAY 05:     SARAJEVO – DEPARTURE
After breakfast free time until departure.
End of services.