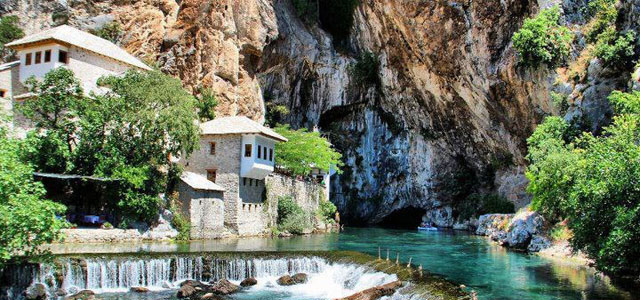 DAY 01: ARRIVE – SARAJEVO
Arrives at  Sarajevo airport. Meet &greet by local guide.
Transfer to hotel. Check-in, rest & relax. Overnight stay.
DAY 02: SARAJEVO
Breakfast at hotel. Morning depart for a full day City & Ethnic Tour .
Highlights: Vrelo Bosne(the spring of river Bosna) Vrelo Bosne is a thriving tourist attraction, both for foreigners visiting Sarajevo and for locals who wish to enjoy the nature. It consists of a number of small islands connected by bridges over the various little streams.Sarajevo you will visit Tunnel Museum- during the 4 years that the city was under attack, this tunnel was the only means of going in and out of Sarajevo.  After Panoramic view of the City you will visit;  Bascarsija – old part of town. Bey's mosque – more then 600 years old; Svrzo's house – old Bosnian style house – museum;  this rich heritage is evident in the unique mix of architectural styles. After tour return to hotel.
Overnight stay.
DAY 03: SARAJEVO – MOSTAR –BLAGAJ(BUNA)
Breakfast at hotel.  Overland transfer to Mostar. Check in at the hotel.
Highlights: Visit Mostar and Blagaj(Buna).
Blagaj- This 16th century dervish order monastery epitomizes the harmonious existence of man and nature. This stunning structure was built at the mouth of the largest source in Herzegovina which gushes from a cave at the base of a 200 meter cliff.
Mostar – The name of the city signifies "bridge-keeper", as a bridge has always been at the heart of the town's identity. You will visit Muslibegovica House as ideal example of Mostar's grand houses of the Ottoman period. Karadjoz-bey mosque, considered to be the most beautiful mosque in the region of Herzegovina, walk through the old town and owner the old bridge-listed as a UNESCO heritage site. Overnight stay.
DAY 04: MOSTAR – JAJCE
Breakfast at hotel. Morning departure to  Jajce.
Jajce – Once the capital of Bosnia and the city of kings and queens. Jajce will certainly impress you with its glorious history with a number of historical important buildings and off course with the Pliva waterfall. Jajce is the world's only city built on top of a waterfall.  Overnight stay.
DAY 05: JAJCE – BANJA LUKA
Breakfast.Morning departure to Banja Luka. Overnight.
DAY 06: BANJA LUKA
After breakfast guided tour of Banja Luka.
Overnight stay.
DAY07: BANJA LUKA – TRAVNIK – SARAJEVO
Breakfast at hotel. Morning departure to Sarajevo via Travnik. (180 km)
Travnik famous for its Nobel Laureate writer Ivo Andric, with its  mosque's and fortress that dot the skyline shows the original style Bosnian architecture that gives this town its charm. Not far from Travnik is the mountain ski resort of Vlasic,  a paradise for snowboarders and a great nature break spot.
In the evening hours, return transfer to Sarajevo. Overnight stay.
DAY08:  SARAJEVO
TIME OF LEASER – for shopping and re-visit sites individually.
DAY09:SARAJEVO– departure
After breakfast transfer to the airport.  End of services.